Non Toxic Skin Cleansing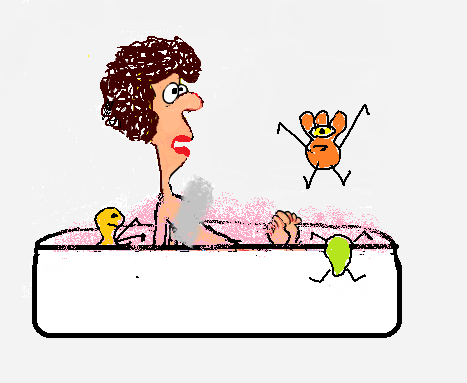 The soaps you use today are not your great-grandmothers soap. Animal fats and lye have been replaced by a slew of chemicals to increase lather, preserve the soap and make it smell good.
Since skin is one of three routes that toxins enter your body, some of these chemicals can impact your health.

Chemicals to Avoid in Skin Cleansing Products
BHA (butylated hydroxyanisole)/ BHT (Butylated hydroxytoluene) - are used as preservatives in food and personal care products mainly to prevent oils from  becoming rancid. They are carcinogens and endocrine system disrupters (interfere with important hormone functions).
Cocamide DEA - a foaming agent in shampoos, soaps and body washes. Possible carcinogen, and combines with other chemicals to create carcinogenic nitrosamines.
DMDM Hydantoin – used as a preservative.  It's an allergen and formaldehyde releaser. This means that it reacts with other chemicals in skin cleansing products to create and release a carcinogen.
Phthalates – Phthalates are used as solvents and to increase spreadability and skin absorption in skin care products. Any product with fragrance will likely have phthalates. They are endocrine disruptors, allergens and asthmagens and cause inflammation.
Retinol – there are many forms of retinol, like retinol acetate, retinoic acid, retinol linoleate and retinyl palmitate used in skin care products. Some forms, in combination with sunlight, increases skin cancer risk.
Toxic Bar Soaps
If you look at all the chemicals that are in most personal care products, bar soap is certainly not the most toxic. Even the worst offenders, like Dove Pink Beauty Bars, pose only a moderate hazard.
Were you surprised that Dove is one of the worst? Me too! But in fairness, their sensitive skin line is much less toxic. Zest and Ivory soaps aren't too bad and if they would just remove fragrance from their formulas they would be less toxic options.
But, deodorant soaps, and medicated soaps can be very toxic and should be avoided. Some of them, like Cetaphil, Palmer's and Dial contain Triclosan.
Triclosan is such a toxic antibacterial agent that most companies have stopped using it. It's an endocrine disruptor, toxic to your immune system and  it can lead to impaired learning and memory, exacerbate allergies, and weaken muscle function.
In late 2016 the FDA banned the use of triclosan in liquid, foam and gel hand soaps, bar soaps, and body washes. However, it won't be phased out of products until late 2017. And, it's very likely that any chemical substitutes for triclosan, like Benzalkonium chloride, will also be toxic.
Nontoxic Options
There are plenty of nontoxic soaps available though, so why not avoid exposure to fragrance, BHT, cocamide DEA, and carcinogenic formaldehyde.
The three non toxic bar soaps that I use are Kiss My Face Olive Oil Bar Soap, the expensive, but oh so wonderful Makes 3 Organics soaps and the reasonably priced Kirk's Original Coco Castile Bar Soap, fragrance free.
Toxic Body Washes
While most soaps are relatively safe, body washes are a whole different story. Changing soap from a solid to a liquid and keeping it liquified and emulsified means adding lots of chemicals. Plus, anything containing water means lots of preservatives to keep bacteria at bay.
For example, Body Shop Shower Gel contains 12 chemicals, including five different parabens, that pose a moderate to high toxin hazard. Oil of Olay uses Acrylonitrile, a lung and skin toxicant and possible carcinogen, in its body washes.
Most body washes, including Oil of Olay also contain Methylisothiazolinone is a preservative associated with allergic reactions. Lab studies on the brain cells of mammals also suggest that methylisothiazolinone may be neurotoxic. It's also a known human immune toxicant and allergen.
I also want to point out how misleading brand names and labels can be. Village Naturals Body Wash, which sounds wonderfully pure and safe, does contain a lot of herbs and essential oils. But according to EWG, the chemicals in this body wash offer a high concern for biochemical and cellular level changes and multiple additive exposure sources.

Non Toxic Body Washes
The best non toxic solution to body washes is to STOP using them. I never really understood the appeal. In addition to all the chemicals in them they make my wash cloth slimy. 
But if you really like body washes, there are two liquid soaps that I use that substitute for body washes - Dr Bronner's liquid castille soaps and Alaffia African Black Soap.  
And for an invigorating body wash add 5 drops each of tea tree oil, peppermint and chamomile essential oil and 3 drops of lemon balm essential oil to a 16 oz bottle of Dr B's or African black soap. Mix in 1 tablespoon of jojoba oil.
Toxic Facial Cleansers
Facial cleansers promise us so many things. Using them can reduce pore size, clear up break-outs, soften skin, and the list goes on.  Unfortunately, they also provide multiple toxic exposure sources and synthetic estrogens.
In addition to BHT, fragrance, and propylparaben, some faces washes contain 2-Bromo-2-nitropropane-1,3-Dil. A name that long can't be good, and in fact this chemical is a carcinogen and a formaldehyde and nitrosamine releaser (also carcinogens).

Non Toxic Facial Cleansers
There are a few non toxic options available. The one I use is Desert Essence Gentle Nourishing Organic Cleanser. Some Desert Essence products have fragrance in them, but their face cleansers do not. 
I pair this cleanser with a Konjac Facial Sponge. You won't believe how soft your skin feels afterwards.
One thing to remember when you switch to natural cleansers - they don't lather like products you're used to using. That's because it takes added toxic chemicals to make that rich creamy lather.
For dry and/or mature skin, cleansing oils by Badger are a good option. It's also really easy to make your own cleansing oils and other non toxic face cleansers.
They are simple and fun to make and you can customize them for your skin. Plus it's cheaper to make your own. For some recipes to get you started check out Homemade Face Cleansers.
Because there are many non toxic natural cleansing products available it's easy to reduce the toxins your skin absorbs during your cleansing routine. Check the ingredients list on the products you use for the chemicals covered in this article. They don't belong on your skin, so if they're in your soaps, consider trying natural, non toxic alternatives to Be Healthy and Stay Healthy.
Other Posts You May Like
Link back from this page to the Home Page