Non Toxic Shampoo And Conditioner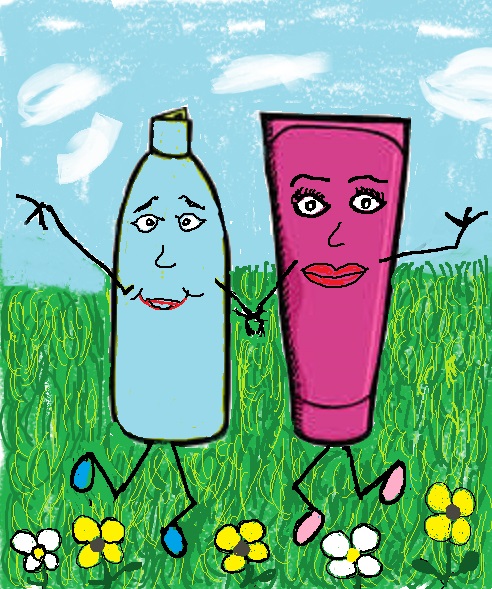 If you're looking for non toxic shampoo and conditioner to reduce your exposure to the toxic chemicals found in shampoo and conditioner, you came to the right place.
But first, I need to confess that I have semi-autonomous hair. If it washed itself, it would be completely autonomous.
That means I have a very simple hair care routine. Because I long ago gave up on making my hair do anything it didn't want to do.
I grew up in the 70's. The decade of stick straight, long hair parted in the middle. My hair is thick, curly and often frizzy. Peer pressure got the best of me and I tried really hard to tame my hair to the trend.
Back then if you wanted straight hair you had to literally iron it, not with a flat iron but with an actual iron. Then there were the gigantic soup-can curlers. I tried it all to no avail. Five minutes outside on a humid day and I was right back at square one. Now I'm a wash and go girl. 
But I digress. What I'm trying to say is that I am no haircare expert when it comes to which non toxic shampoo and conditioner will make your hair shiny or your curls bouncy. Plus, I can count on one hand the number of 'great hair days' I've had in my entire life.
I can, however, point you in the direction of good general options for nontoxic haircare based on the ingredients used to make them.
Non Toxic Shampoo And Conditioner Options
My favorite non toxic shampoo comes in a bar. I started using shampoo bars years ago when I was making my own soap. I would whip up bars full of nourishing oils for my dry hair.
Now I buy good homemade soap to use as shampoo. Etsy is a good source for this. Other bar options I like are J.R. Liggett Bar Shampoos, Skinny & Co. Chemical Free Shampoo Bar, Freedom Shampoo Bar and The Yellow Bird Shampoo Bar. Keep your shampoo bar dry between uses and it should last 2-3 months.
I found that I don't have to wash my hair as much and don't always need to use conditioner with shampoo bars. But if you can't wrap your head around using soap to wash your hair there are other great natural shampoo and conditioner options.
When my hair gets really dry in the winter, I skip the soap and do a co-poo. I use Attitude oatmeal unscented conditioner for that.
Avalon Organics and Attitude offer a non toxic line of shampoos and conditioners at reasonable prices. I've used their conditioners but haven't tried their shampoos. 
Carina Organics and Acure Organics Natural Shampoo are good, but more expensive options.
California Baby and Baja Baby are good natural options for kids. For a dry shampoo try 
If you use styling products, Pureology offers natural shampoos, conditioners and styling products.
Remember, when you switch to a natural shampoo and conditioner give them a fair chance. It can take a while for your scalp and hair to shed chemical residues and for your natural oils and pH to be restored.
If have dandruff, non toxic shampoo and conditioner will help alleviate the problem by restoring your scalp's natural oils and pH balance. Try natural shampoos and conditioners with coconut oil or tea tree oil.
Or add several drops of tea tree oil to your shampoo. There are also some natural dandruff remedies you can try that will help restore balance to your scalp.
With all the non toxic shampoo and conditioner options available today, it is so easy to avoid this source of toxic chemical exposure. So, give some non toxic hair products a try. I think you'll be surprised at how great your hair will look.
For more great non toxic personal care items check out these posts.